Cancer and Medical Marijuana
Medical Marijuana Awareness Post-Webinar Resources
The Webinar
Thank you to everyone who attended the July 2nd Medical Marijuana Awareness webinar on Cancer and Medical Marijuana!
Watch the video on our YouTube Channel! Your questions and comments during the live Q&A help to make a great source of information for the next person seeking treatment.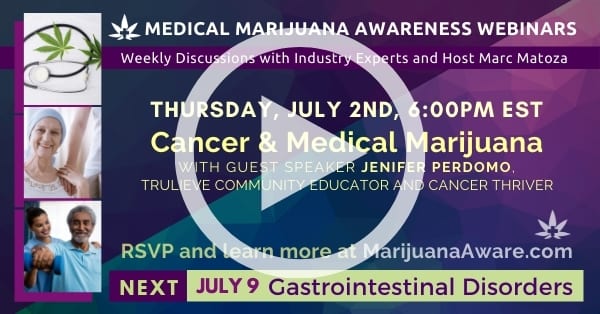 Speakers featured in this webinar were host Marc Matoza and Jenifer Perdomo of Trulieve.

Marc Matoza
Host
President, Marijuana Med Today
Marc is a technology and business development manager with expertise in technology, database, cybersecurity, and online/web/mobile computing. As an inventor, computer scientist, and entrepreneur, he has developed innovative tech products including a leading relational database, multiple digital multilingual dictionaries, a digital bilingual reference/grammar-checking word processing add-on, golf [sports] swing video capture & analysis solutions, and certified safe anti-microbial environments.
Marc's multinational background includes technology and corporate management experience with Hewlett Packard, Netscape Communications, Ashton-Tate, AlphaGraphics SA, MarcTech SA/LLC, and Swing Solutions. This includes managing operations in Europe, Latin America, Canada, and the USA. He has a Computer Science Degree from California Polytechnic State University.

Jenifer Perdomo
Guest Speaker on Cancer
Trulieve
Jenifer

 

Perdomo

 is the Trulieve Miami Dade and Monroe County Community Educator.
She is the mother of 3 adult children, cancer survivor, medical marijuana patient and advocate. In her role, 

Jenifer

 is responsible for hands-on education of Trulieve's Medical Cannabis products as well as ensuring physicians have the most up-to-date information to provide the best patient experience possible. After experiencing life threatening stage 3 cervical cancer, 

Jenifer

 was prescribed a long list of medications for pain amongst other symptoms, medications that none of her doctors could agree on as being the best protocol for treatment. That all changed when medical marijuana became an option for Florida residents, and 

Jenifer

 was able to ditch the pills and find the mental and physical relief that she hadn't had since prior to her cancer diagnosis. She knew it was time to leave the corporate healthcare world and help others navigate this new option of taking charge of their health too.
"Cancer is a group of diseases involving abnormal cell growth with the potential to invade or spread to other parts of the body, ultimately leading to death. Over 100 types of cancer affect humans and 14 million people are diagnosed with it each year. The most common types of cancer are lung cancer and prostate cancer in men, and breast cancer, lung cancer, and colorectal cancer in women. It is one of the leading causes of death worldwide.
Some of the causes of cancer are preventable. One out of five deaths caused by cancer is related to tobacco use. Another 10% is due to obesity, lack of physical activity, or excessive drinking of alcohol. Other cases are related to infections (especially in the developing world), as well as environmental pollution and exposure to ionizing radiation. The risk of cancer increases significantly with age. We also know that diet affects our risk of developing cancer. "
Materials from the Webinar
"Cytokines are signaling proteins that ultimately recruit inflammation to happen. Cytokines will trigger specific immune cells to release inflammation or actually even reduce inflammation, given the right circumstances. […] CBD actually modulates the cytokine production."
Dr. Sanjay Gupta's enterprise reporting on medical marijuana has led to five documentary films, "Weed," which were awarded the Alfred I. duPont-Columbia University Award.
Cannachats Recommended Reading
Cancer & Medical Marijuana
Basics of Medical Marijuana in Florida
The Cannabis Health Index, pgs. 259-264. Uwe Blesching, P. (2015).
The Genetic Structure of Marijuana and HempSawler, J., Stout, J.M., Gardner, K.M., Hudson, D. Vidmar, J., Butler, L., Page, J.E., and Myles, S. (2015). PLOS ONE; DOI:10.1371/journal.pone.0133292
Get Your Life Back with Medical Marijuana
[captainform id="1309555"]