CBD: Miracle Cure or Snake Oil
Medical Marijuana Awareness Post-Webinar Resources
The Webinar
Thank you to everyone who attended the October 14th Medical Marijuana Awareness webinar on CBD!
Watch the video  on our YouTube Channel! Your questions and comments during the live Q&A helped to make a great source of information for the next person seeking treatment.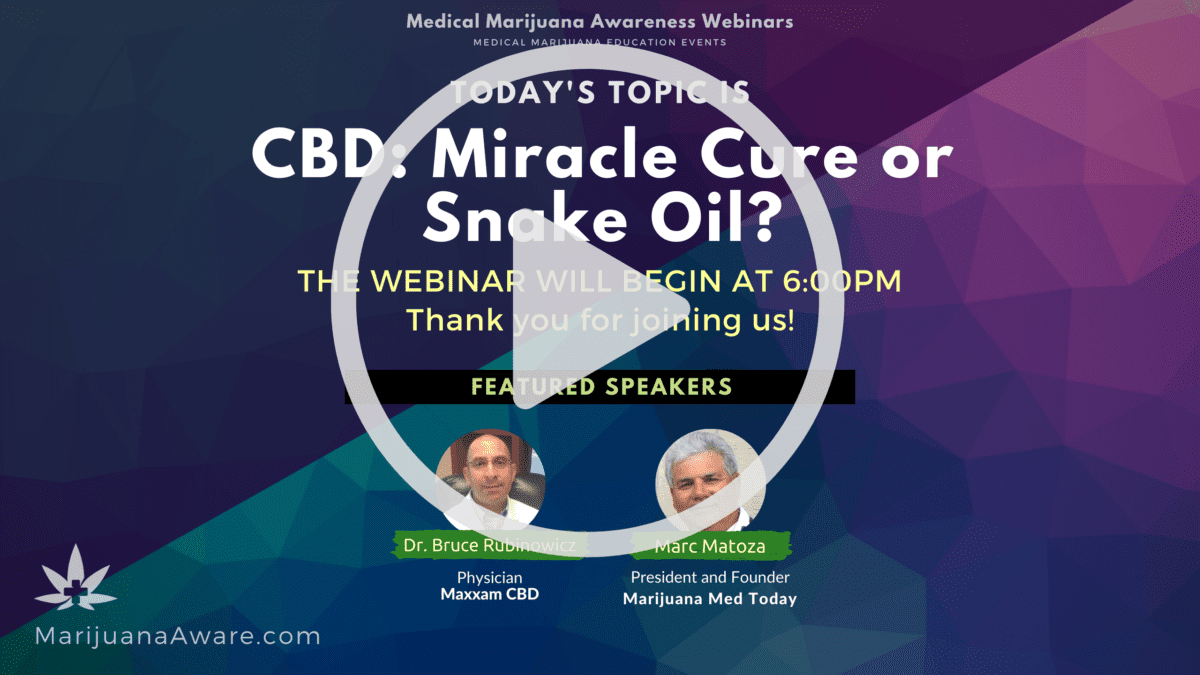 Speakers featured in this webinar were host Marc Matoza and Dr. Bruce Rubinowicz.
CBD: Your Questions Answered
CBD is a cannabinoid. It is one of over 100 cannabinoids that have been identified. CBD is a phytocannabinoid, it comes from plants, Cannabis Sativa. CBD and THC are the two most common and recognized cannabinoids. CBD, and other cannabinoids, mimic the activity of endocannabinoids. Endocannabinoids are endogenous(occur naturally in the human body) lipid-based
neurotransmitters.The Endocannabinoid System [ECS] is the most prevalent receptor system in the human body and functions to maintain homeostasis [system balance]
"CBD is a molecule that comes from the resinous, or sticky, flower of Cannabis plants CBD is a safe, non-addictive substance that's closely related to another chemical compound found in Cannabis called known as THC. But unlike THC, CBD is nonintoxicating. That's because CBD and THC act in different ways on different receptors in the brain and body CDB is used to treat a number of different illnesses including: rheumatoid arthritis, Alzheimer's, dementia, Parkinson's, multiple sclerosis, epilepsy, autism, ADHD, PTSD, Crohn's, and psoriasis"
Continued Education and Awareness Resources
Materials from the Webinar
"Cytokines are signaling proteins that ultimately recruit inflammation to happen. Cytokines will trigger specific immune cells to release inflammation or actually even reduce inflammation, given the right circumstances. […] CBD actually modulates the cytokine production."
Dr. Sanjay Gupta's enterprise reporting on medical marijuana has led to five documentary films, "Weed," which were awarded the Alfred I. duPont-Columbia University Award.
Cannachats Recommended Reading
Basics of Medical Marijuana in Florida
Get Your Life Back with Medical Marijuana
[captainform id="1309555"]