Can Medical Marijuana Help You?
Medical Marijuana Awareness Post-Webinar Resources
The Webinar
Thank you to everyone who attended the June 25th Medical Marijuana Awareness webinar "Can Medical Marijuana Help You?"
Watch the video on our YouTube Channel! Your questions and comments during the live Q&A help to make a great source of information for the next person seeking treatment.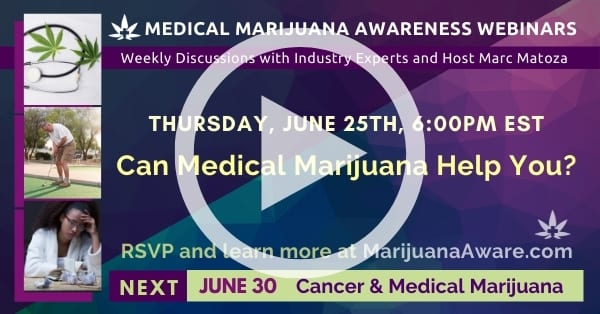 Speakers featured in this webinar were host Marc Matoza and guest speaker Andrew Burke, Physician Engagement Manager for Trulieve.

Marc Matoza
Host
President, Marijuana Med Today
Marc is a technology and business development manager with expertise in technology, database, cybersecurity, and online/web/mobile computing. As an inventor, computer scientist, and entrepreneur, he has developed innovative tech products including a leading relational database, multiple digital multilingual dictionaries, a digital bilingual reference/grammar-checking word processing add-on, golf [sports] swing video capture & analysis solutions, and certified safe anti-microbial environments.
Marc's multinational background includes technology and corporate management experience with Hewlett Packard, Netscape Communications, Ashton-Tate, AlphaGraphics SA, MarcTech SA/LLC, and Swing Solutions. This includes managing operations in Europe, Latin America, Canada, and the USA. He has a Computer Science Degree from California Polytechnic State University.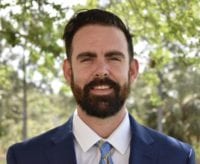 Andrew Burke
Guest Speaker 
Physician Engagement Manager, Trulieve
Andrew
is the Physician Engagement Manager for the state of Florida.
Andrew
, born and raised in the small beach town of Hobe Sound, Florida, grew up spending most of his time playing organized sports, studying, relaxing with his family at the beach, and going on the boat with his friends. Family and community are both fundamental components of his upbringing. Being from a small town, he experienced first hand what a well connected and empowered community can do for its members.
Andrew
attributes the support he received from his community to the success of his mother's victory against breast cancer. During his mother's battle against breast cancer,
Andrew
began his battle for patient access to medical marijuana here in Florida.
In 2012 he left his small beach town to continue his education in the field of business at Florida State University.
Andrew
's journey with Trulieve began in February of 2017 in Tallahassee, FL, where he took his first role with the company as a Patient Consultant shortly after graduating with his degree in Risk Management. He spent a year working in the first dispensary in the state, and he continued to develop in the company as a Community Educator for his home town area. In this role,
Andrew
felt for the first time that he was able to give back to the community that gave his mother the means and hope to survive one of his family's most trivial times. Now,
Andrew
oversees and supports the Community Education team across the state.
Can Medical Marijuana Help You?
Medical Marijuana is used to treat a variety of lifestyle conditions. In Florida, the Office of Medical Marijuana Use outlines the rules and regulations for the State Medical Marijuana program.
"What does the endocannabinoid system have to do with cannabis? It has everything to do with the order in which scientists discovered the different molecules. 
Cannabinoid receptors, the locks attached to cells in our bodies, were only discovered because researchers were trying to understand how plant-based cannabinoids (phyto-cannabinoids) like THC interact with the body. So they were named cannabinoid receptors, after the main chemicals that activates them."
Materials from the Webinar
"Cytokines are signaling proteins that ultimately recruit inflammation to happen. Cytokines will trigger specific immune cells to release inflammation or actually even reduce inflammation, given the right circumstances. […] CBD actually modulates the cytokine production."
Dr. Sanjay Gupta's enterprise reporting on medical marijuana has led to five documentary films, "Weed," which were awarded the Alfred I. duPont-Columbia University Award.
Cannachats Recommended Reading
Cannabis Pharmacy: The practical guide to medical marijuana. Pgs 185-187. Backes, M. W. (2017). 
Basics of Medical Marijuana in Florida
Origins of Agriculture.Gray, Alic William et al.  Encyclopædia Britannica. Encyclopædia Britannica, Inc., 29 Sep. 2015. Web.
The Cannabis Health Index, pgs. 259-264. Uwe Blesching, P. (2015).
Mortality Data. Centers for Disease Control and Prevention. Division of Vital Statistics. Atlanta, 2014. Web.
Get Your Life Back with Medical Marijuana
[captainform id="1309555"]