Treating Post-Traumatic Stress
with Medical Marijuana
Medical Marijuana Awareness Post-Webinar Resources
Treating Post-Traumatic Stress with Medical Marijuana
Medical Marijuana Awareness Post-Webinar Resources
The Webinar
Thank you to everyone who attended the July 14th Medical Marijuana Awareness webinar on Post-Traumatic Stress and Medical Marijuana!
Watch the video on our YouTube Channel! Your questions and comments during the live Q&A helped to make a great source of information for the next person seeking treatment.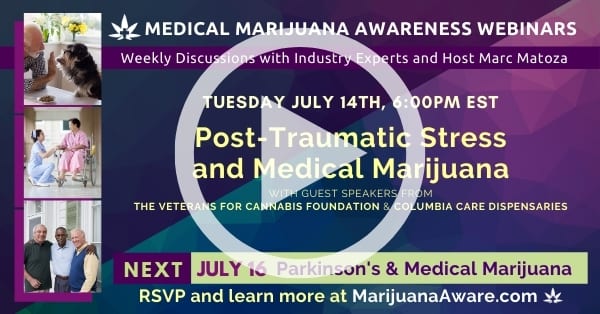 Speakers featured in this webinar were host Marc Matoza and Joshua Littrell, Founder and Managing Director of the Veterans for Cannabis Foundation and Arnetra Shettelworth, Vice President of Operations in South Florida for Columbia Care Dispensaries.
What is Post Traumatic Stress?
Overview by
PTS
is a common, normal, and often adaptive response to experiencing a traumatic or stressful event. Y
our heart may race, hands shake, you may sweat or feel afraid and nervous.
PTSS is a clinically-diagnosed condition.
Common symptoms include reliving a traumatic event through nightmares, flashbacks, or constantly thinking about it. Although some of these symptoms sound similar to PTS, the difference is the duration and intensity
"While research into cannabis as a treatment for PTSD is still sparse, large numbers of PTSD patients themselves report that it helps with both the primary symptoms of the condition and secondary side effects including anxiety and sleep disturbances.
Furthermore, because cannabis triggers body receptors that regulate memory, some researchers are looking at ways medical cannabis could help the brain "overwrite" traumatic memories."
Continued Education and Awareness Resources
Materials from the Webinar
"Cytokines are signaling proteins that ultimately recruit inflammation to happen. Cytokines will trigger specific immune cells to release inflammation or actually even reduce inflammation, given the right circumstances. […] CBD actually modulates the cytokine production."
Dr. Sanjay Gupta's enterprise reporting on medical marijuana has led to five documentary films, "Weed," which were awarded the Alfred I. duPont-Columbia University Award.
Cannachats Recommended Reading
Animal Models of Fear Relapse
T.D.  Goode, S. Maren, ILAR J 2014;55:246-58.
Cannabis Pharmacology
Ethan B. Russo, et al., Advances in Pharmacology (2017 in press)
CBD A Patients Guide to Medical Cannabis: Healing without the High
 Leinow, L. & Birnbaum, J. (2017). Pg. 154-157
The Cannabis Health Index. Pgs. 337-342
Blesching, U. (2015)
Elevated brain cannabinoid CB1 receptor availability in post-traumatic stress disorder: a positron emission tomography study
Neumeister, A., Normandin, M. D., Pietrzak, R. H., Piomelli, D., Zheng, M. Q., Gujarro-Anton, A., … Huang, Y. (2013). Molecular psychiatry, 18(9), 1034–1040. doi:10.1038/mp.2013.61
"New Uses for the Old Hemp Plant", Marijuana
Ernest L Abel, (1980), 105-21; and Cristobal Acosta, Tratado de las drogas y medicinas de las Indias Orientales… (Editorial MAXTOR, 2005
Endogenous Cannabinoid Signaling is Essential for Stress Adaptation
Matthew N. Hill, R.J. McLaughlin, B. Bingham, L. Shrestha, T.T. Lee, J.M. Gray, C.J. Hillard, B.B Gorzalka, V. Viau, Proceedings of the National Academy of Sciences 107, no. 20 (2010):9406-11.
The Genetic Structure of Marijuana and Hemp
Sawler, J., Stout, J.M., Gardner, K.M., Hudson, D. Vidmar, J., Butler, L., Page, J.E., and Myles, S. (2015). PLOS ONE; DOI:10.1371/journal.pone.01332927
Get Your Life Back with Medical Marijuana
[captainform id="1309555"]