Medical Marijuana as Treatment for Addiction*
Medical Marijuana Awareness Post-Webinar Resources
*Please consult your physician before making any major health decisions 
The Webinar
Thank you to everyone who attended the August 6th Medical Marijuana Awareness webinar on Medical Marijuana as a Treatment for Addiction.
Watch this video on our YouTube Channel! Your questions and comments during the live Q&A helped to make a great source of information for the next person seeking treatment.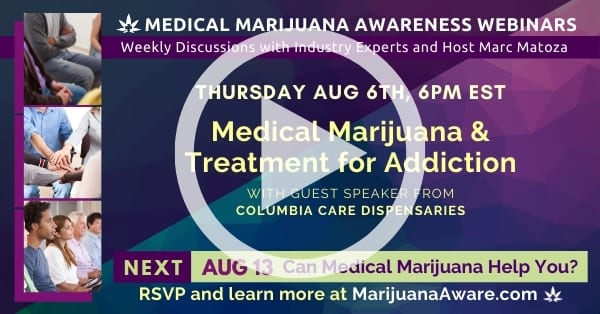 Speakers featured in this webinar were host Marc Matoza and Arnetra Shettleworth,Vice President of Operations, Southern Region for Columbia Care.
Medical Marijuana as Treatment for Addiction
While it's clear that the endocannabinoid system is highly involved in the underlying processes behind addiction, that by itself doesn't tell us whether cannabis can help those suffering from addiction. There is, however, a fair amount of research looking at exactly that question.
One way that cannabis may help is as a substitute for other addictive substances that have a worse safety profile than cannabis. Researchers have observed that when patients use cannabis and opiates together, they tend to decrease their opioid use by 40-60% — and report fewer negative side effects, better cognitive function, better quality of life, and a preference for cannabis over opioids. Other studies have shown that cannabis can reduce the amount of opioids needed to achieve a desirable level of pain relief. One theory believe this is true due to a synergistic effect between cannabis and opiates, which results in more pain relief together than either offers individually.
"The Exit Drug documentary, created by Weedmaps, investigates how cannabis could play a major role in ending the opioid crisis, a public health emergency that kills an average of 115 U.S. citizens a day. According to neuroscientist Dr. Adie Wilson-Poe, cannabis has the potential to significantly improve public health by diminishing our reliance on opioids. The Exit Drug explores the course of opioid addiction, from initial usage (typically after an injury) to drug relapse, and how cannabis could be the solution to reduce harm and promote help.."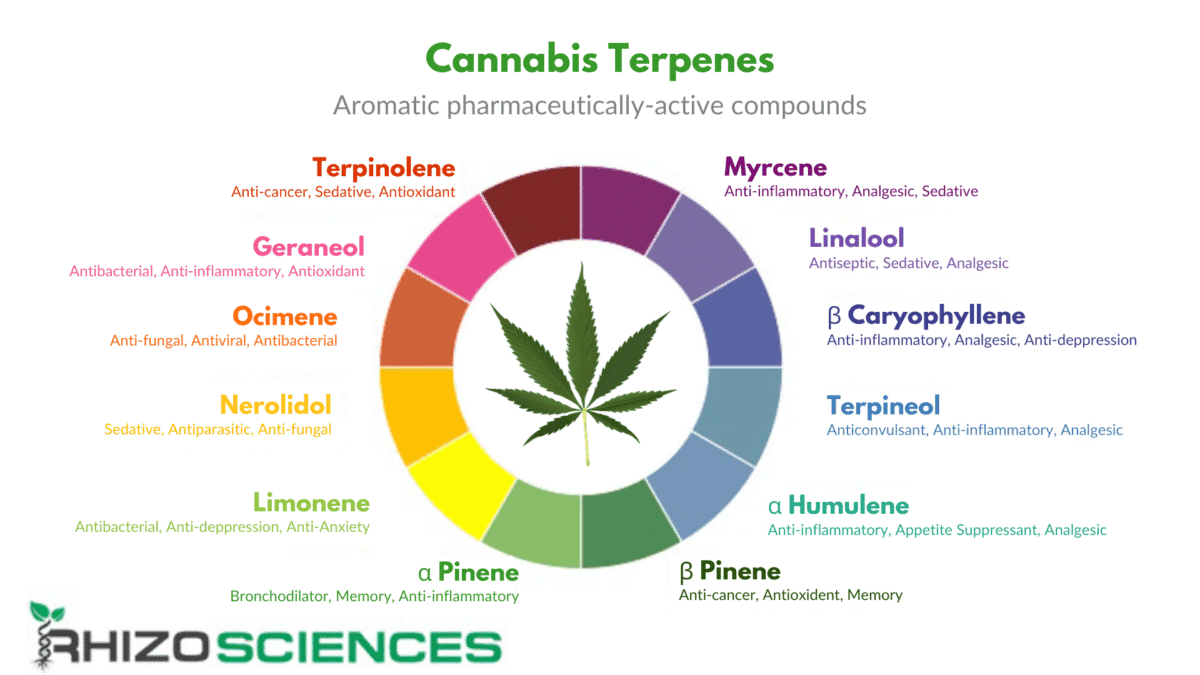 Continued Education and Awareness Resources
Materials from the Webinar
"Cytokines are signaling proteins that ultimately recruit inflammation to happen. Cytokines will trigger specific immune cells to release inflammation or actually even reduce inflammation, given the right circumstances. […] CBD actually modulates the cytokine production."
Dr. Sanjay Gupta's enterprise reporting on medical marijuana has led to five documentary films, "Weed," which were awarded the Alfred I. duPont-Columbia University Award.
Cannachats Recommended Reading
Medical Marijuana as a Treatment for Addiction
Cannabis Pharmacy: The practical guide to medical marijuana (2017)
Backes, M. Weil, A. McCue, J.D.
Basics of Medical Marijuana in Florida
CBD: A Patients Guide to Medical Cannabis: Healing without the High. Pg. 103-105. Leinow, L. &. (2017).
The Cannabis Health Index, pgs. 259-264. Uwe Blesching, P. (2015).
Endogenous Cannabinoid Signaling is Essential for Stress Adaptation
Matthew N. Hill, R.J. McLaughlin, B. Bingham, L. Shrestha, T.T. Lee, J.M. Gray, C.J. Hillard, B.B Gorzalka, V. Viau, Proceedings of the National Academy of Sciences 107, no. 20 (2010):9406-11.
New Uses for the Old Hemp Plant
Ernest L Abel.Marijuana (1980), 105-21; and CristobalAcosta, Tratado de las drogas y medicinas de las Indias Orientales… (Editorial MAXTOR,
2005)
Cannabis Pharmacology
Ethan B. Russo, et al., Advances in Pharmacology (2017 in press)

Chronic PTSD in Vietnam
Combat Veterans: Course Illness and Substance Abuse
J. Douglas Bremner, S.M. Southwick, A. Darnell, and D.S. Charney, American Journal of Psychiatry 153,
no. 3 (1996): 369-75
Get Your Life Back with Medical Marijuana
[captainform id="1309555"]